Why Is Sea Salt So Important
Our bodies need salt. We cannot live  without it. This has been true since time began. So why has salt got such a bad wrap? 
Table salt is 99%+ Sodium Chloride. It has No minerals, it is mined from rocks millions of years old, it has Anti-Caking agents (Silicone, Aluminium etc) added to it to make it flow, it is Scientifically Proven to be Not Good for you.
The difference between Table Salt and Sea Salt (Table salt is ancient Sea Salt) can be compared to Coal and vegetation (Coal is ancient vegetation). They have both come from the same original source but would you eat coal? (Actually my dog eats coals as it does have minerals in it unlike table salt).
Scientists now agree that our body needs "Good Healthy" salt. And that the best source is Pure Natural Sea Salt that has been harvested from a "Living Ocean" It is the balance of sodium when taken in conjunction with the other natural sea minerals that is now scientifically proven to be good for you and necessary for health. So if you are going to use salt then for your own health, make it sea salt, any sea salt is better than table salt.
As it happens, sea salt harvested in traditional ways and open air is oxidised and is typically off white due to its interaction with open air, sand, soil etc. It is then washed to make it white for visual effect. Unfortunately most of the natural minerals are also washed away during this process.
Oriel is Different. It is naturally crystal white, non-oxidised and unwashed. From when it leaves the ocean until it is packed, it never touches the air, sand, soil or hands, so it is quite simply the most natural, pure, powerful sea salt available. But don't just take our word for it. Look at our certifications and read what many chefs and foodies have to say on our product pages. 
Look at our certifications and awards and read what many chefs and foodies have to say below. 
 
Multiple Award Winning: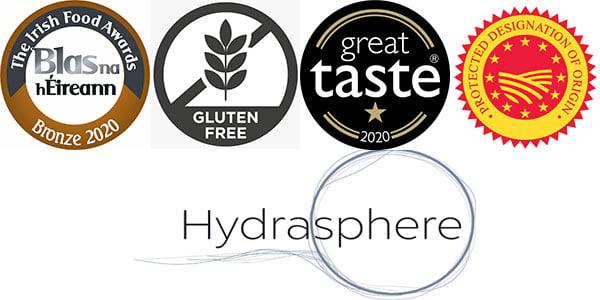 Please take a moment to read some of our customer reviews for our Mineral Sea Salt. If you would like to submit a review, please do so here Submit a Review. We constantly update our customer reviews and give a complimentary product for each one published. 
Ed O'Donnell, O'Donnells Crisps: "We tried a range of Sea Salts, but the taste profile of Oriel Sea Salt was supreme, these crisps have a wonderfully addictive taste"
Ross Lewis, Chapter One "It's not until you taste this salt that you realise how clean and pure its flavour could and should be. And it's Irish we should all be using it!!!" 
Noel Mc Meel, Lough Erne Resort "Everyone should be using this, a super ingredient and it's Irish"
Ed Cooney, The Pearl at The Merrion Hotel "Finally, a Sea Salt that does not overpower the dish but elevates the overall taste, super and Irish" 
Debbie "Cakebombs" "If Oriel Sea Salt was a coffee, it would be the finest roast blend, and the rest would just be de-caff"
Darren Harris, National Bakery College DIT "We found it to be very good, I was able to reduce salt down by 25% on average without difficulties in processing. I found it to be of good flavor and it had a clean taste. That said we really liked the breads that had a high level of your sea salt also!"
Fred Pillavoune, Fallon & Byrne "Our new Focaccia bread made with Oriel Mineral Sea Salt is simply another world"
Oriel Sea Salt have joined forces with Teeling Whiskey to create a Teeling Whiskey Smoked Sea Salt that hits all the senses. To describe this could not be done better than chef Shane Ryan of The Menu at The Irish Examiner: "Teeling's Irish Whiskey Smoked Sea Salt is the culinary equivalent of a unicyclist balancing a pile of dinner plates atop a long pole, the other end of which is perched precariously on the tip of his put-upon proboscis—the concept alone is both terrifying and ridiculous and in reality it shouldn't work at all yet somehow it does, three stonking great flavours, whiskey, smoke, salt, piled on top of each other and coming together in what can only be described as a very vigorous harmony".
Champion & Reeves – Chocolates to the House of Lords – "We love the subtle taste of Oriel Sea Salt which really kicks in towards the end of the tasting experience"
Domini Kemp, Itsa Food Company "A lovely Irish Sea Salt which has a better flavor and stronger taste which means you can use less of a great natural product"