Easter is a time for indulging in delicious treats. Aines Craft Chocolates has created something truly special in collaboration with Oriel Magnesium Store. Their handmade Easter eggs feature a touch of the ultimate sea salt, Oriel Irish Mineral Sea Salt. Our Sea Salt guarantees to elevate the taste of any dish.
Oriel Mineral Sea Salts
At Oriel Magnesium Store, we firmly believe that food tastes better with Oriel Sea Salt. Our Natural Mineral Sea Salt comes in a 100-gram pack and features a slightly moist powder-like grain, perfect for those who like to pinch. This mineral sea salt has a powerfully smooth taste that allows you to use up to 25% less salt with no compromise on flavour. As a result, it's a healthier choice having essential minerals.
Oriel Sea Salt's powerful flavour comes with mineral after-tones and is totally Irish, natural, pure, and local. Its fine-grain texture provides a smooth deep flavour, making it the perfect ingredient for any dish. The sea salt's forgiving nature means that a little too much means richer and not saltier, which is why it's the preferred choice of many chefs.
What makes Oriel Sea Salt truly unique is that it's the only sea salt in the world that is crystalised underwater to retain its intensity. It's harvested through a sealed system. It ensures non-oxidised salt that dissolves and disperses 80% faster in recipes. Additionally, Oriel Sea Salt has no additives and is as nature intended, making it a healthier option for any dish.
Handmade Belgian Chocolate Eggs
When Aines Craft Chocolates combined Oriel Sea Salt with their fine-quality chocolate, they created the perfect Easter treat. These handmade Easter eggs are available exclusively at Dunnes Stores and are the perfect gift for any chocolate lover. The Oriel Sea Salt adds a savoury touch to the sweetness of the chocolate, creating a perfect balance of flavour.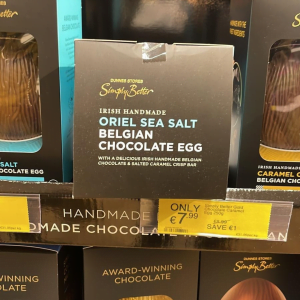 IRISH HANDMADE
ORIEL SEA SALT
BELGIAN CHOCOLATE EGG
With a delicious Irish handmade Belgian chocolate & salted caramel crisp bar.
So, if you're looking for the ultimate sea salt to elevate the taste of your dishes, look no further than Oriel Irish Mineral Sea Salt. And if you're looking for the perfect Easter treat, head to Dunnes Stores and pick up some Aines Craft Chocolates' Oriel Sea Salt Easter eggs. These delicious and healthy treats are sure to be a hit with chocolate lovers of all ages.